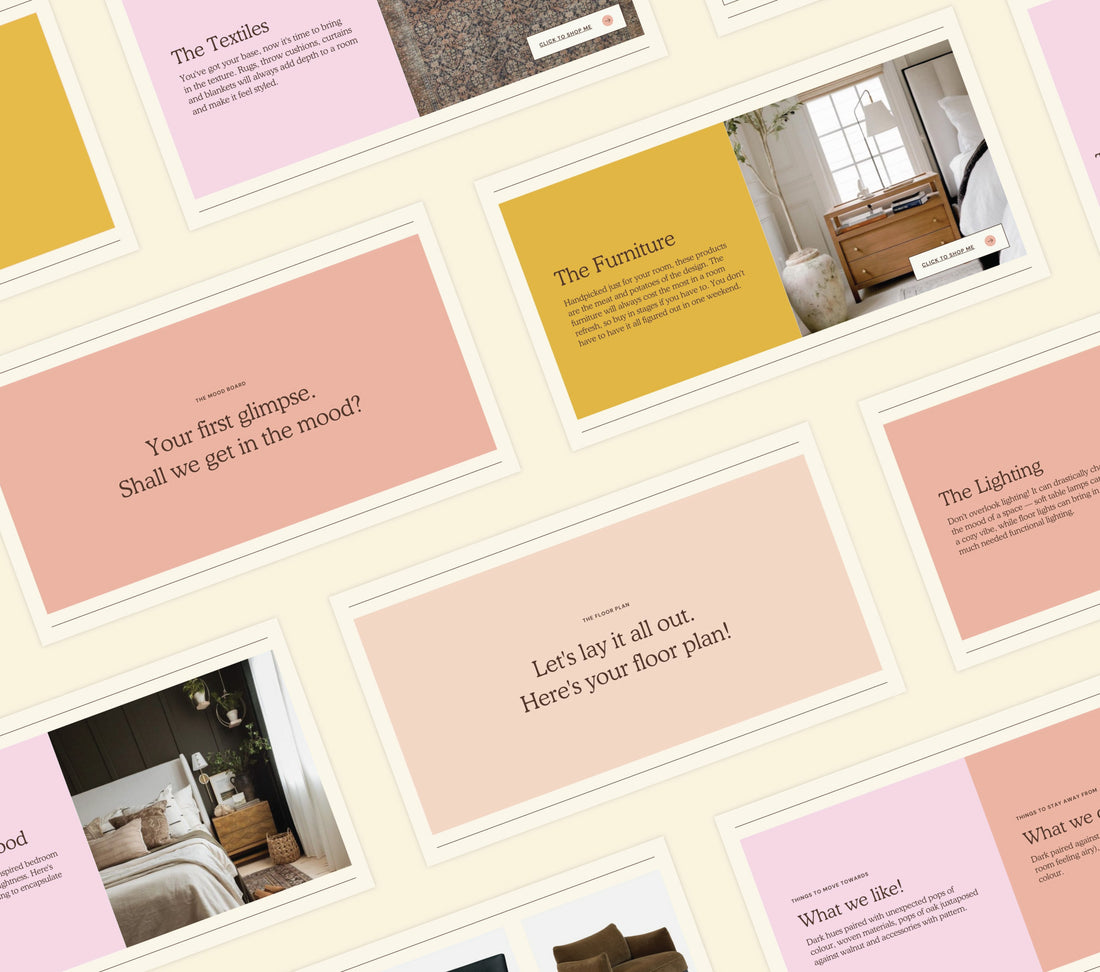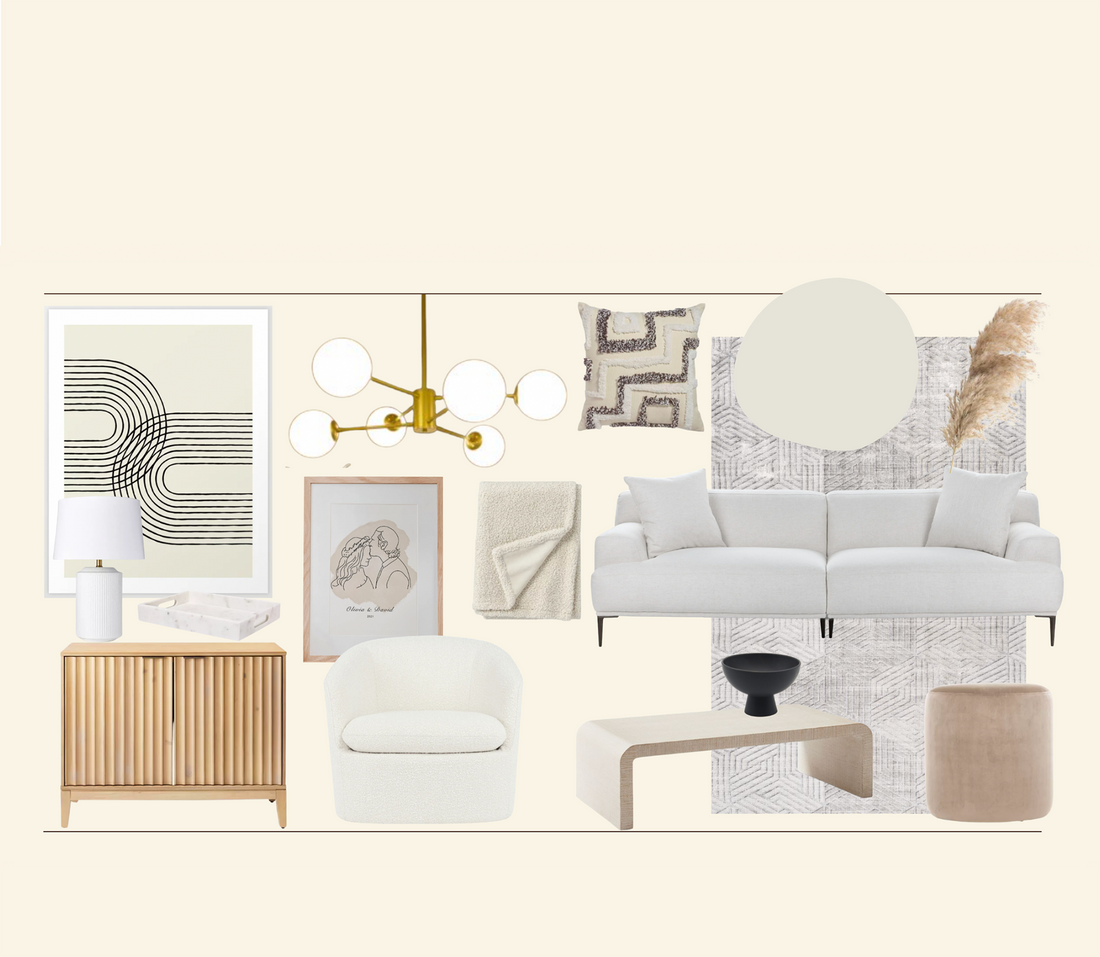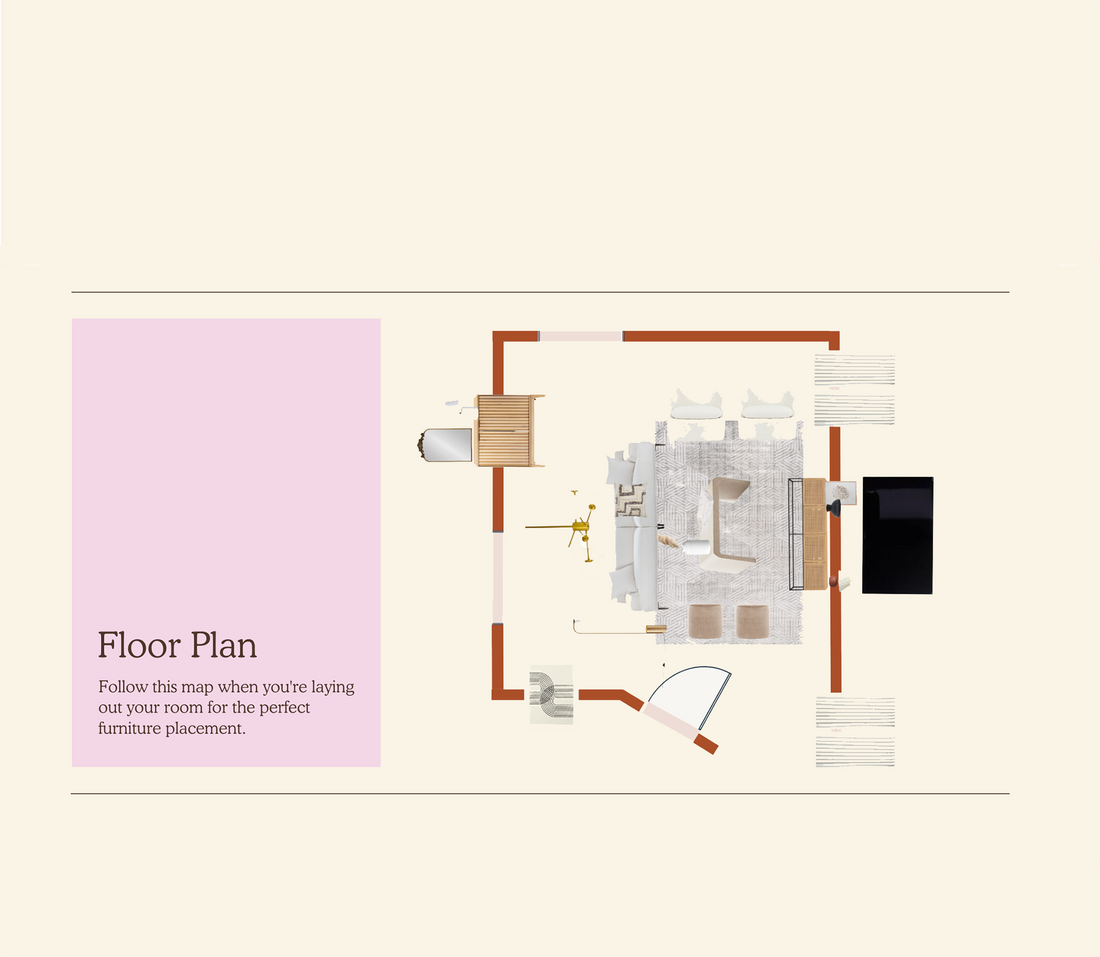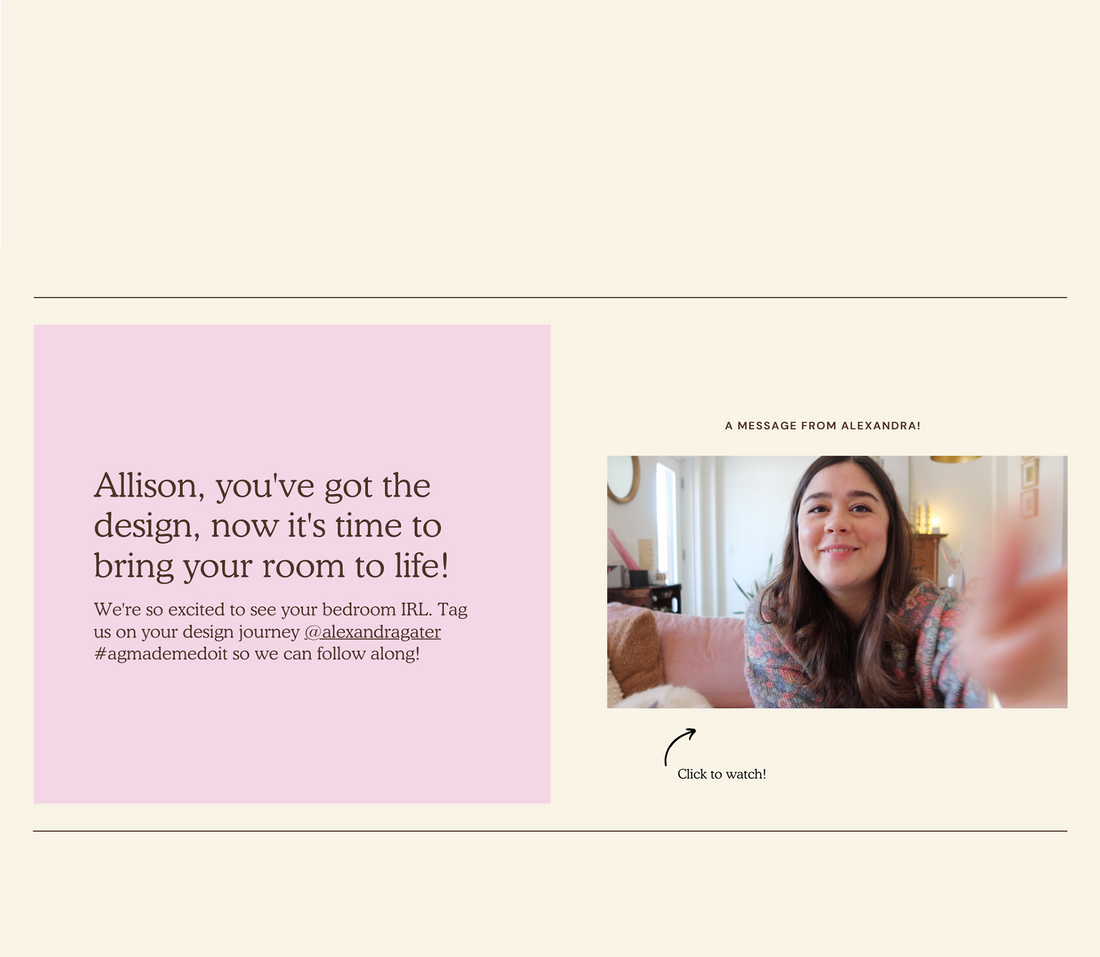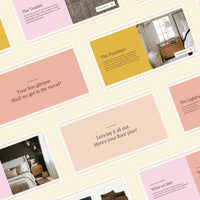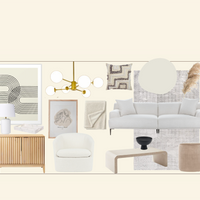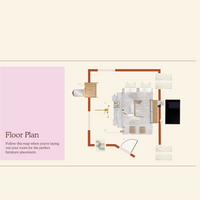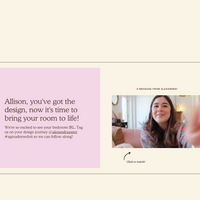 Together, we'll make your space sparkle and find your design style so you can take your home from meh to marvellous.
You'll send me photos, measurements and your inspo for the room you want to makeover, and then my team and I will get designing. We'll send you a list of suggested products, a mood board, colour combo ideas, a new floor plan and a short video from yours truly.
These packages are available worldwide! We tailor the product suggestions to where you live.
The delivery date after purchase is 90 days after submitting your questionnaire answers. If you don't submit your details when requested, we can no longer guarantee this timeline.
Designs are final. So much time and care is put into each custom design and due to the high volume of packages sold, we aren't able to consult further (via email or a call) once you have received your custom package.
•  A customized 23-page handbook outlining a solid plan for your space
•  More than 20 products with links that are picked for your particular space within the budget you set 
•  A mood board so you can see all the products together 
•  A plan suggesting item placement. This diagram is to-scale
•  A customized colour palette
•  Tons of ideas and inspiration to help the vision come to life
•  A short personalized video from Alexandra walking you through the plan
"Design has always been scary for me. But the virtual design package really helped me understand what makes a space beautiful." - Naomi Newell
Frequently Asked Questions
One purchase equals one room, or one studio apartment.
If the room you are submitting includes two rooms in one, like a living room/dining room, you will have to make two separate purchases for each room.
You will receive your custom plan back in 90 days. We are working hard to reduce delivery times.
You'll receive a personalized video from Alexandra walking you through the entire design plan if you purchase the full room virtual makeover package. 
Of course! We are making your dream space come to life. Make sure you include as many details as possible when you fill out your form so that Alexandra has all the information to deliver a room plan you love.
Worth it!
Let me start by saying I just purchased 3 more makeovers because I loved what Team AG did with my guest room. The colors were perfect as were the furniture selections. The only thing I'm changing this go-around is my budget. I'm upping it because I feel the design I received was a bit sparse, which is completely on me because I went really low budget. Alexandra and her team did an excellent job at remaining within my price point, which was pretty hard to do. Kudos to them for the products they selected because it allowed me to choose upgrades where needed. I'm looking forward to working with her again with my new budget and highly recommend this service. Totally worth it!
"WOW!" Factor - Bedroom Makeover
Alexandra masterfully curated a personalized beautiful design completely transforming my bedroom into a welcoming, comfy and snug retreat. She morphed my basic rental into something grand and unique; the furthest away from "basic" one can get. The Virtual Makeover Package helped me see my space in a new light, and the personal video from Alexandra eased any nerves I had about tackling the project myself. I definitely plan to take advantage of another Virtual Makeover for another room in my space one day.
Thank you, Alexandra and Team AG!
Beautiful ideas and best advice!
I loved communicating with AG's team on what I hope my apt living room would look like. The ideas in the detail pdf really help bring these thoughts to life! I'm grateful for Alexandra's skills and all. I'm still putting my place together when I get free time. But it's getting there and I'm excited every time! Thank you Team AG!
Bedroom Makeover.. I love it dispite the hiccups :)
I love it! You've made the whole bedroom... a warm, cozy place. A place I want to be in, and never leave. Most of it is done, except painting the walls (it's going to be done when I'm doing a full Reno).
Will definitely choose to do a makeover again!
Unfortunately, even though I loved it, there are some hiccups along the way. I wanted to shop for the items ~ 2 weeks after I received the PDF. But a LARGE number of items are not available. I'm not too sure if this was a consideration as part of the design process? But it seems werid that many items, from different stores, are not available within a 2 week timeframe?
Regardless, I still love it, and have tried to look for similar replacements. But it'll be good if you guys can confirm the availability of items just before sending out the proposal. :)